Would You Like to Lease a CNG Bi-Fuel GM Truck?
The high cost of fuel is forcing car makers to think outside the box. Honda introduced the Civic Natural Gas and it was immediately crowned as the car with the cleanest internal-combustion engine on Earth.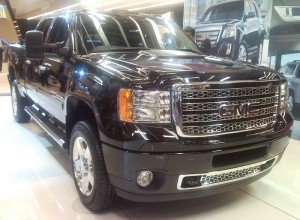 General Motors has announced that they will begin selling a dual-fuel version of the Silverado and Sierra pickup truck. Chevrolet and GMC dealers will begin taking orders for a CNG and gasoline fueled version of the GMC Sierra and Chevy Silverado. This move is in response to the needs of business owners who want a more fuel efficient commercial vehicle.
Benefits of CNG or Compressed Natural Gas
Based on studies conducted by the U.S. Department of Energy, natural gas vehicles produce less harmful pollutants compared to a conventional gasoline or diesel engine.
Tests were performed on heavy-duty vehicles that utilized CNG for fuel. The results were staggering, as CNG fueled vehicles reduced nitrogen oxide emissions by 49%, and an impressive 84% fewer particulate emissions compared to a diesel engine.
Add to that the fact that natural gas costs 1/3 less than gasoline, and the benefits are now easier to understand. Vehicles that burn CNG are not only cleaner, but they cost less to operate as well.
Disadvantages of CNG
Most of the problems associated with CNG vehicles will have something to do with the installation and the quality of the parts used during the conversion process.
But the major disadvantages of CNG vehicles is the loss of trunk space and increase in weight. Since you will need to have a separate fuel tank to store the CNG fuel, small vehicles will have to contend with a smaller trunk and loss of storage space when equipped with a bi-fuel system.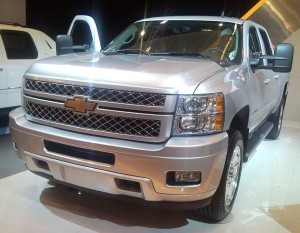 There are no such problems with the GMC Sierra and Chevrolet Silverado. The CNG tank will be positioned in the bed of the truck, and will have the capacity to store 17 gallons (or 64 liters) of compressed natural gas. Along with the conventional 36-gallon gasoline tank, the bi-fuel pickup trucks will have a maximum driving range of around 650 miles, or 1,000 kilometers.
Depending on your driving habits, the CNG-powered Sierra and Silverado pickup trucks are expected to save around $4,000 to $10,000 in fuel costs over a span of three years. This is good news for business owners or private individuals who are looking for a powerful, economical, and long range full size pick up truck.
The Cost
Fleet and retail customers can start placing their orders for the 2013 GMC Sierra and Chevrolet Silverado 2500 HD bi-fuel pickup truck beginning April 19, 2012. The Chevy and GMC bi-fuel extended cab pickup trucks are expected to cost $11,000 more than the standard gasoline-only version.
Would you like to lease a CNG bi-fuel GM truck? Will the potential fuel savings be enough to justify the higher cost? Auto insiders were asking the same kind of questions when hybrid vehicles were introduced in the beginning of 2000.
Hybrid cars are still here. Let us hope that CNG and bi-fueled vehicles have a bright future as well.