The Most Affordable AWD and 4×4 Vehicles Available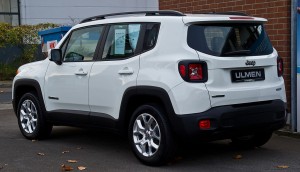 Nearly everyone has had the feeling. That feeling we get when we're outgunned. I imagine it feels like having a knife at a gunfight, although I've never been in that particular situation. What I have experienced many times is the feeling of being in a front-wheel-drive sedan in a place where I would only feel sufficiently equipped with an AWD or 4X4 vehicle. Today we're going to talk about some of the most affordable cars that will be able to get you through deeper snow, wetter dirt, and slicker ice. Here are the most affordable AWD and 4X4 vehicles on the market.
No. 1: Subaru Impreza
MSRP with AWD: $18,295
Class: Compact Sedan/Hatch
Typical Lease Special Rate: $199/mo with $1,900 down
The Subaru Impreza is the most affordable car on the market that turns more than two wheels. It's a compact car with AWD as a standard feature, one of the few available. Although it's not extremely efficient for a compact car, it does get 28 miles to the gallon in the city and 37mpg on the highway. That's better than larger AWD vehicles get.
One day soon, Subaru may offer some form of autopilot as a standard feature. As for now, it's an option. The Japanese company's Eyesight safety system will apply the breaks when you're not looking, which adds to the safety associated with AWD.
This car also has a great residual value, as you would expect for a Subaru. Around 60% after three years means great leasing rates and slow, steady depreciation.
No. 2: Jeep Renegade
MSRP with 4WD: $19,995
Class: Compact SUV
Typical Lease Special Rate: $184/mo with $2,000 down ($500 incentive)
The name "Renegade," as it relates to Jeep, goes back to 1990. At that time, it referred to a trim available on Jeep Wranglers. It was an options package that made the Wrangler look really cool. Today, Renegade is the title of the new SUV model, which also looks really cool. Wranglers have always be known for off road capability in a small package and that's the idea behind the new Renegade. The SUV also comes with lots of new technology, including automatic wipers.
This little SUV is 4 wheel drive, not all wheel drive. It's the most affordable 4WD on the market, which means it's the most affordable car for true off road conditions.
No. 3: Mitsubishi Lancer
MSRP with Electronically Controlled 4WD: $19,995
Class: Compact Car
Typical Lease Special Rate: $199/mo with $3,000 down
The Lancer is a model that competes well with Subaru's Impreza. It has a CVT transmission and isn't very efficient, but it does come with an electronically controlled 4WD system and will keep you firmly attached to the ground on wet roads. If you don't want CVT, you'll have to find 3,000 extra dollars and opt for the 5-speed manual GT trim.
It's a great car but you may want to wait until it gets a redesign to buy or lease one. It's been a while since that has happened. An all-new Impreza must be coming soon.
No. 4: Subaru Crosstrek
MSRP with AWD: $21,595
Class: Compact SUV
Typical Lease Special Rate: $239/mo with $889 down
Like the Subaru in the top spot, this crossover-styled car isn't impressively efficient or powerful. It is, however, a practical and capable Subaru model. In fact, it's a bit more prepared for off roading than the Impreza, due to its ground clearance. The engine is a boxer with 148 horsepower. It's not a rally car but it will get you where you need to go, even if you need to go off road. You won't even have to press a button to prepare for any inclement weather. The Crosstrek's symmetrical AWD is always on.
For traction and efficiency, you might want to look at the Crosstrek Hybrid, which has an MSRP of $26,395.
What do you think?
AWD and 4WD cars come in much greater numbers today than they did 20 years ago, but the most affordable options are usually quite compact. Are these affordable cars spacious enough for you? Post your opinion in the comments, below.
Before you sit down to sign a lease contract, you should get some quotes from a variety of dealerships. No matter what vehicle you're looking for, you can get quotes from any dealer for it, right here at CarLeasingSecrets.com. It's a free service we offer to you. Click here to request quotes.