The Accord Coupe is No More. Here's What to Get Instead.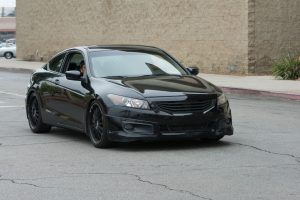 Honda recently exposed, to the dismay of many Honda fans, that the 2-door Accord coupe won't be produced anymore. Since the Altima coupe and Camry coupe are also gone, there aren't many Japanese, mid-size coupes to choose from. Blame the crossovers. Those dang ridiculous boxes of nonsense... OK, they're not that bad but what are we supposed to do now if we want a coupe, right? Let's think about it.
You Could Get a Civic Coupe
The new Civic is a little bigger than it was a few years ago. The total difference in passenger volume between the Accord and the Civic is only about 5 cubic feet, somewhere around the size of a carry-on suitcase, maybe a little smaller. Divide that by 5 passengers and you start to realize there's not a very noticeable difference. The most noticeable thing is the width of the rear seating rows. Whereas the Accord has 55.1 in, the Civic has only 52.6 in. Still, it's not a huge difference and it doesn't become an issue until the whole car is full of broad-shouldered passengers. The 2018 Civic will be equipped with up to 205 hp (possibly more), as well. Yea, this really is kind of a substitute for the Accord Coupe!
You Could Just Get a 4-Door Accord
Some might say a 2-door, mid-sized vehicle doesn't make sense anyway. "Just get a 4-door." And you might respond with scoff or an eye roll. This time, though, we have a good reason to suggest it. The new 2018 Accord is pretty cool! It's a fastback sedan that kind of looks like an Audi A7 from the rear. It comes with two engine options: a 1.5L turbo (192 HP) and a 2.0L turbo (252 HP). Both engines can be paired with a six-speed manual transmission or a CVT transmission. I mean, you're not giving us any eye rolls now, are you? We hope not.
You Could Look at Other Options
Well, unfortunately, that's about all we can come up with that's in the same price range and size range. There are some vehicles that are close to our category. For example, there are a number of small sports cars with two doors. Examples are the Nissan Z, Mazda MX-5, VW Beetle and Toyota 86. Even the Kia Forte Coupe, maybe, could be a close match for you.
There are also some higher-priced coupes to consider, if you have the funds. Examples are the Dodge Challenger, BMW 4-Series, Ford Mustang, Chevrolet Camaro, Cadillac ATS, Mercedes-Benz C-Class, Audi A5 and Lexus RC.
If you haven't found something that's just right on this page, you might be out of luck. It's just not a market for coupes. (curse you, crossovers!) Coupes will be back someday, though. Whenever everyone gets sick of crossovers, coupes will be back.
Click here to get comparable quotes from dealers near you. Choose the best one or use them to start a price war!