The 5 Least Expensive 2016 Pickups to Insure
Pickup trucks are not inexpensive to fuel. Many new models include diesel engines to help cut down on costs. There are even some hybrid trucks on the market. Smart drivers know that fuel is only one of many costs they are responsible for, though. A significant cost, and one that's easy to moderate, is your insurance premium. Thanks to Nerdwallet, we have some recommendations for you.
#1 Toyota Tacoma
MSRP: $23,300
Avg. Annual Premium: $1,033
This year, the Tacoma is the fifth best-selling truck, behind four American-brand pickups. Perhaps if every truck driver knew the Tacoma is inexpensive to insure, they'd buy it more often. It has good towing capacity (3,500 lbs base), excellent resale value and Toyota reliability. It may not be as comfortable as other trucks, however. Rumors suggest the 2017 Tacoma will be available with a diesel engine.
#2 Chevy Silverado 1500
MSRP: $26,520
Avg. Annual Premium: $1,078
The Silverado is bigger and more powerful than the Tacoma, which is why its base trim can tow 5,035 lbs. The Silverado is quiet and comfortable to ride in. It also has some cool new tech, such as Apple CarPlay and Android Auto. You can have it with an "EcoDiesel" engine, too. At just $3,000 more than the Tacoma, it's no wonder more drivers choose the Silverado.
#3 Ram 1500
MSRP: $26,295
Avg. Annual Premium: $1,086
<a href="https://www.carleasingsecrets.com/wp-content/uploads/2016/08/Ram_1500_DS_Crew_Cab_facelift_2_China_2014-04-24 viagra original achat.jpg">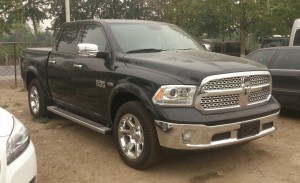 photo by Navigator84
Ram is good at offering everything you want and/or need at a price that's hard to beat. The most expensive truck in the Ram 1500 line is the Longhorn Diesel 4WD Crew Cab. It's got it all and it goes for $55,815. At the bottom of the line is the 3.6L Crew Cab "Tradesman," which meets the needs of most for $32,795. You might have to look at Ram 2500s if you need to tow heavy loads, however.
#4 Ford F-150
MSRP: $26,430
Avg. Annual Premium: $1,122
Ford has designed hybrid F-150s and even plug-in hybrid F-150s. Though, the latter hasn't been officially announced. Sightings near Ford's headquarters suggest the Detroit manufacturer might offer a diesel-powered F-150 soon, too, which is good news if you're a Ford fan. As you can see, Ford's best-seller is about $36 per month more expensive to insure than the Ram. Even while gas is cheap, the savings of alternative fuels should persuade even more truck drivers to go with Ford.
#5 Nissan Frontier
MSRP: $19,190
Avg. Annual Premium: $1,126
The Frontier is just cheap enough to add a little more Japanese flavor to the list. Although it's starting price might be the strongest draw for drivers, it does have an attractive, sturdy design and a 3,500-pound base towing capacity. Throw in an extra $6,000 to bump it up to 6,500 lbs. The Frontier is fun to drive but isn't quite as fuel efficient as the Tacoma.
Need quotes for your next truck? Get them online, the easy way. Free, no-obligation price quotes are at your finger tips when you request them from local dealers online. Click here to request quotes in minutes.