Mustang's 0-60 Time Draws Nearer to SRT Demon's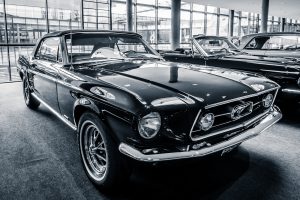 Dodge went all out to make the brand new Challenger SRT Demon get to 60 mph as fast as possible. It will do it in 2.3 seconds. That's faster than a Lamborghini Aventador by about a half a second. To make it happen, Dodge gutted the Challenger to reduce it's weight by a couple hundred pounds and softened its suspension, to name a few of the adjustments. We heard the dragster has no rear seating.
Apparently, Ford didn't think it was necessary to beat the Challenger on the strip. However, they are boosting the horsepower of every V8 model by 25. That means each 2018 V8 Mustang will push 460 horsepower. But an even bigger change is coming and it's called "Drag Strip Mode." Drag strip mode is a kind of launch control that controls torque and shifting to optimize acceleration. It is only available with automatic variants. Therefore, you'll leave most cars in the dust but you might feel a little bored while you're doing it. Still, it's a badass car with a 10-speed gearbox and a bunch of algorithms and fancy technology that makes you faster.
All of this renders a vehicle capable of reaching 60 mph in under 4 seconds, according to Ford. That's a full second and some change slower than the SRT Demon but the Mustang retains its full Mustangness while gaining the quickness. In other words, it hasn't been transformed into a car that doesn't function on the commute or on a road trip. Another BIG difference between the two vehicles is their price. The SRT Demon is set at an arguably ridiculous $84,995, whereas the Mustang GT (460 hp) will sell for about $35,000. If you want the performance package, which includes Brembo brakes, heavy duty front spring, a strut-tower brace and Torsen rear differential, you'll end up paying around $39K total. That's less than the bottom-of-the-line Corvette, which makes 455 hp and has an MSRP of $55,450. You can see why the Mustang is highly competitive.
As far as the Mustang's look, though, it's mostly unchanged. Although, Ford did redraw its little grillside air scoops. They now look a lot like the scoops of the Lexus RC or even the Prius Prime. We don't get it. They don't look that bad, though. You also get a stylish new rear spoiler and Michelin Pilot 4S tires to complete the look, according to Jalopnik.
When it's time to get a deal on a Mustang, compare quotes from local dealers instantly. It's free and there's no obligation involved.