Is the 370Z Going to Be Discontinued?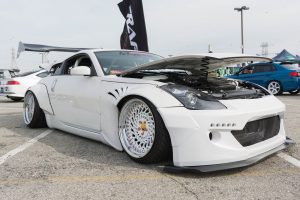 It's been 8 years since the 350Z was upgraded to the 370Z. Ever since that happened, the 370 has changed very little, at least in terms of appearance. It begs the question, is Nissan focusing on other things? Is the Z about to be discontinued?
Support for the argument that the Z will be discontinued comes in several forms. Firstly, sales are underwhelming. Since 2015, the 370Z's sales have decreased by about half, with only about 850 sold in May an June of 2017 combined. In the same months of 2015, Nissan sold about 1,500 Zs.
Secondly, Nissan has tested the waters with different sports cars. The ESFLOW is a 100% electric concept that combines Z design with GT-R performance (that's why they say, anyway). Nissan hasn't been involved in the EV market as much as other manufacturers have. Could it be that the company will refocus resources into that area? Nissan also tried a more retro, 1.5L (turbo with Nismo trim) concept that was named the IDx. Of course, it didn't make it to production. Seems like the retro sports car market is well-served by Dodge, but is there still room for a compact, affordable Japanese sports car like the 370Z?
Nissan has been thinking about that question. They came up with the idea of a "Heritage Edition" to enthuse what's left of classic Nissan sports car fans, but it's really just about the same vehicle as the rest of the Z line. It's just a little bit more colorful, with its stripes and bi-color interior. There are no suggestions or rumors that the Z will be revamped for 2019. However, that's a good thing for many Z fans. It's a gorgeous car! It's, perhaps, the most beautiful sports car you don't have to spend an average middle-class person's full-year salary for. If you're in agreement with that, you should probably start thinking about getting one because we're not sure if new Zs will continue to be produced much longer. It's hard to say.
On the other hand, there's a general lack of compact sports cars on the market, which could help keep the 370Z alive. The Hyundai Genesis Coupe is gone. The Accord coupe, gone. The rest of the Z's competition are either more expensive or just less, pretty. The Mustang is nice-looking but there's no way it can compete with the Z in the style category. You'd have to pony up for an Audi TT or something even more expensive to even come close. Maybe the Z is here to stay for a while, after all. That's good, because it is a fantastic little ride. It has earned it's place in history, and the modern 370Z still shares the spirit of the original 240Z. Not many sports cars can claim to retain their original spirit from over 40 years ago.
Ready to buy one? Get free, no-obligation, local price quotes here. You'll save time and money!