Automotive Seating Materials: Making the Choice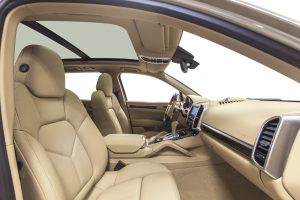 Car seats are an important aspect of any vehicle. You need them to be comfortable and appropriate for your lifestyle. But how do you choose? First, know your options.
Nylon: Nylon is a durable, woven fabric that comes in many colors and textures. It repels liquids well but can be stained. Woven Nylon tends to hold dirt well. It's not the best car seat material if you want a clean look or tend to carry a lot of dirt around on your clothes or with your pets. Nylon can have an abrasive, scratchy or scrapy effect on the skin if enough pressure is applied. "Mesh" material is usually made out of nylon.
Polyester (Microsuede): Polyester is used to make that soft, furry microsuede material that is a popular choice today. It's similar to fleece but is more durable and has shorter, hair-thin fibers. This fabric holds dirt, much like nylon does. Depending on the stain, it may be easier to clean but you'll need detergent that is designed for it.
Vinyl: Vinyl car seating acts as a leather seat substitute. They are very easy to clean. Just wipe them with a damp towel and you're good to go. Vinyl isnt porous, so you don't have to worry about stains unless you've had a marker or paint accident. One of the only significant problems with vinyl is its tendency to get hot in the summertime. Particularly if your seats are dark in color, you will have to find a way to keep them cool before sitting down.
Polyurethane (faux leather): Faux leather has all the benefits of vinyl plus the added benefit of looking almost exactly like real leather and actually being easier to clean than real leather. It's also cheaper than real leather, of course.
Leather: Car seats may be upholstered with a number of different kinds of leather. It is often standardin luxury vehicles. Leather resists liquids and stains but can be damaged by certain liquids. Don't use the wrong king of cleaner to get your leather seats clean. It's a good idea to add leather conditioner to your leather seats from time to time, which is an inconvenience. Leather seats look great for a long time when maintained properly.
What's the right Choice for You?
First of all, let's make sure we are familiar with some additional important auto seating vocabulary. "Leather appointed" seats are not leather seats. Rather, they are partially leather and the rest of them is upholstered in another car seat material. "Leather seating surfaces" means less than the entire seats are covered in leather, likewise. "Leatherette" typically refers to vinyl material.
The most important questions to ask yourself have to do with price and lifestyle. Usually, faux leather and leather seating are not available in the most affordable vehicles. You'll be spending at least a few thousand dollars to get it. Your lifestyle should dictate what's best for you, though. Do you have children that will be spilling things in the back seat? How about pets? If so, faux leather and vinyl are the most convenient options for you. Real leather is easy to clean but can be difficult to maintain. Cloth (nylon and polyester) is inexpensive but stains easily. You could consider getting seat covers, if it turns out to be cost effective. Make a plan and find the right vehicle!
It's easy to find the best lease deal in your area. All you have to do is get free online quotes from every local dealer, via carleasingsecrets.com. Click here.
​